Business process management
We visualize the business structure of corporations as a business process, devise methods necessary for process improvement, and develop organizations and human resources to support improvements to steady the management of business processes.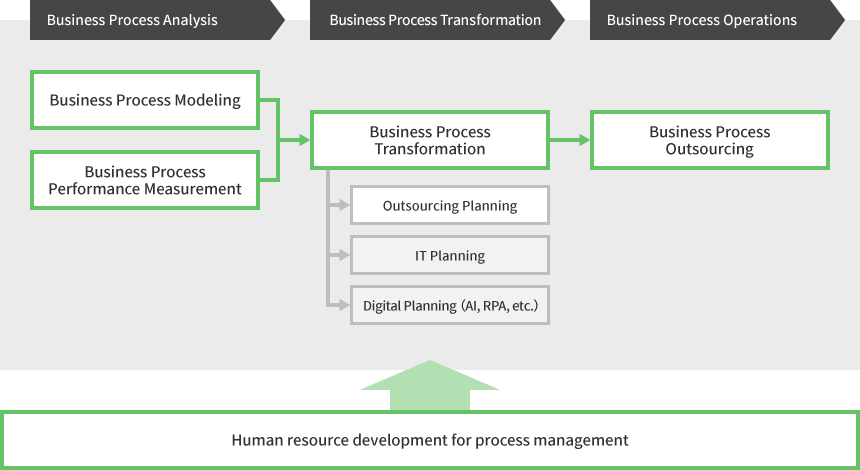 Business process modeling

We help our customers visualize their business processes and support the development of the structure of management systems needed to build infrastructure that enables ongoing process changes.

Business process performance measurement

We establish key performance indicators (KPI) for each process and evaluate them in combination with input resources including working hours (man-hours) and IT investment to ensure a strong foundation for productivity improvements.

Business process transformation

We offer comprehensive support, ranging from planning to implementation of process-change projects, by collaborating with digital-technology and outsourcing providers to offer our customers solutions to the operational issues that they may face.

Outsourcing planning

We optimize resource allocation through strategic planning for BPO and shared services, vendor selection, transfer of business, and construction of operational management systems after transfer.

Human resource development for process management

We assist in the development of human resources (business analysts) to support process changes and the establishment of a process management promotion department through the promotion of training programs and operational improvement activities.

Business process outsourcing

Some operations, even if they are not central to the organization, may require advanced judgment and negotiations. We support optimal placement of human resources within our client companies by facilitating such processes.